Wednesday, 25 November 2020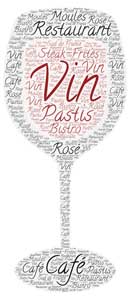 Eating out is one of the great pleasures of being on holiday in the South of France. There are so many choices of restaurants, traditional bistros, local café-bars, pizzerias, haute cuisine. Buffet style Asian restaurants are the new trend and are normally found near shopping/commercial centres. Keep an eye out for "Top Chef" this is the French version of MasterChef and many talented chefs go on to open their own restaurant.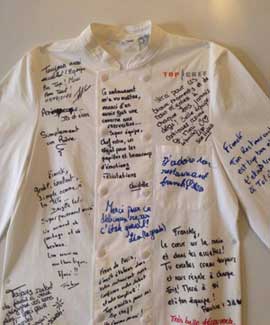 France is renowned for its cuisine and meal times are taken extremely seriously, especially lunchtime, no quick M & S sandwich, or last nights leftovers at one's desk !
Vegetarian meals are a little more widely available, but nothing like the UK. When ordering fish or the classic Chevre Chaud do tell them you are vegetarian as they may add meat based garnishes or sauces.
It's hard to imagine how the French feel about their restaurants, bistros. cafes and bars being closed until at least the middle of January (they have been closed since November and many have not even had 6 months trading this year due to Covid-19).
Breakfast
A typical French breakfast starts by a trip to the local boulangerie, maybe a fresh baguette, flute or a grand pain. Croissants (if you're having one then you may as well have a full fat croissant beurre!), pain aux raisins or our office favourite a pain au chocolate. A real boulangerie means that everything is made onsite, otherwise it's a "depot du pain". Coffee or hot chocolate is normally served and if they do have tea there will be no sign of the milk jug!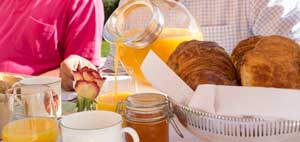 In a nutshell breakfast is a sweet and not a savoury affair, a wonderful way to start your day, especially if sat on your private terrace by the pool.
Lunch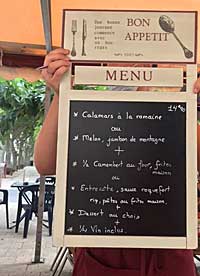 Whether you opt for a café-bar, bistro or top restaurant, Le Menu du Jour is by the far the best choice, not just because it is excellent value but also the ingredients will be fresh and seasonal. There are normally 2 or 3 choices of each course, entrée, plat and dessert. Many restaurants have a variety of menus available (the cheapest is normally purely for weekday lunchtimes) and ¼ litre of wine per person is often included. Very few French go a la carte at lunchtime but as you are on holiday in the South of France why not! In the smaller villages and towns you may have to smile and use your charm if you arrive after 1.30! A small café to finish and if you like a splash of milk order a noisette.
If you want to grab something to take to the beach then a "jambon beurre" sandwich is a great choice, the best bread, the best butter and the best ham, nothing else is needed!
Le Goûter – afternoon snack 4pm typically for children.
Dinner (from 7pm or sometimes 8pm)
If you are meeting friends then French etiquette is that you have to wait until everyone has arrived and is seated before ordering an aperitif so don't think that the waiter or waitress is ignoring you! The textbook aperitif is a Pastis or Ricard (no they are not the same!) or a Kir (white wine and cassis). Tap water is always provided and of course bread (you can ask for butter!)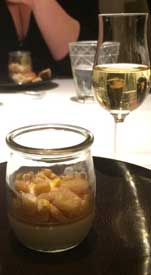 Steak frites maybe one of the staples on the menu with Entrecote (Rib Eye) being the most popular cut of beef, however one can find that the French meat can be a bit hit or miss. Popular fish and seafood courses are Dorade (Sea-Bream), Langoustines and of course the French version of Fish and Chips – Moules Frites served with a choice of sauces from the classic Mariniere to a Roquefort cheese.
Wine
The French adore their wines so don't expect to see an Australian Chardonnay or a Spanish Rioja on the wine list. If you are visiting the Languedoc (Occitanie) area then you will most likely find the wine list to be dominated by local wines and the staff will probably know the vigneron. In a bistro-café bar wine by the carafe is a popular choice, it is worth trying "un quart" to see what it is like.
If you like a wine that you have tasted whilst socialising then do feel free to visit the Domaine and buy the wine direct. As long as it is not lunchtime or grape picking time and many of the Vignerons will show you around and let you taste a variety of their wines. You can then enjoy a glass or two by the pool in your private holiday villa. If you have flown to France they may be able to arrange for it to be shipped back for you.
If you would prefer to have a dining experience in the comfort and privacy of your holiday villa then we can help arrange a private chef.
Bon Appetit tout le monde!